Bradesco Seguros
Talento de Seguros
Bahia, 2015

Creative concept, and visual ID for an award event of

Bradesco Seguros

. The event had the goal to reward the best Bradesco Seguros' insurance brokers. The event theme was "The winner is made by a determination", and was split into three steps: preparation, overcoming, and celebration. The creative briefing required The Olympic Games theme as the main idea. The Olympic Games occurred in Brazil in 2016, and Bradesco Seguros was one of the event's official sponsors.
Criação de conceito criativo, identidade visual e desdobramentos para o evento de premiação da Bradesco Seguros Direcionado aos corretores de seguros, o evento apresentou a jornada do corretor campeão em ação,se preparando, se superando e comemorando. O briefing criativo solicitava o resgate da Campanha de Incentivo "A DETERMINAÇÃO FAZ O CAMPEÃO", relacionando o evento aos Jogos Olímpicos, que ocorreram no Brasil, em 2016 e tinha como um dos patrocinadores oficiais, a Bradesco Seguros.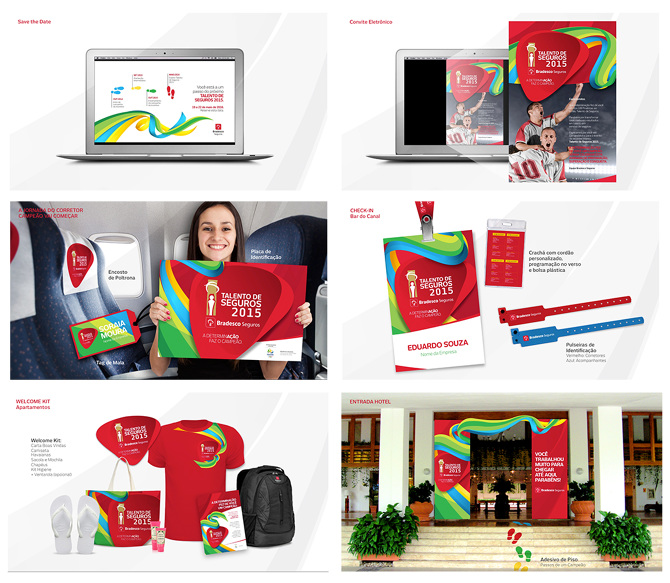 The visual concept had the main idea of "the winner journey" to get to the finish line.
O desenvolvimento do key visual e das demais artes se baseou na linha de chegada, conquista,
fluidez e na jornada do campeão.
Bradesco Seguros, created in 1946 by Banco Bradesco bank, is the largest insurance company in Brazil and Latin America.
AD: Cami Murari
Planner: Luciana Freire
Scenery: Alexandre Serrano + Fresh Design
AG: TV1 Experience